---
Profile
---




COMPANY HISTORY

Capetech Technological Services Inc. was established in Pictou, Nova Scotia in 1986 by James H. Dunphy specializing in Electrical / Mechanical design, PLC Programming and Automation. We have grown steadily due to our unmatched dedication to our clients and the quality of work produced by our experienced staff. Capetech is in a never-ending quest to keep on top of the latest technologies to better serve our clientele.


PERSONNEL AND OFFICE

Our office located in Pictou is supported by a group of dedicated and experienced employees. On staff are Electrical / Mechanical Engineers, Electrical / Mechanical Engineering Technologists and Technicians, PLC Programmers, Automation Design Experts, CAD Technicians, Computer Networking Experts, and Supporting Office Staff.

Our employee's are constantly being trained in the newest technologies to provide better services to our customers. The Capetech office is equipped with the latest technology in computers and networking systems that are second to none. We use only the latest, most powerful engineering design software on the market to assist our staff.

At Capetech we have a fully functional testing lab to better serve our clients. Utilizing the lab for initial hardware / software, set-up and debugging allows us to provide a faster, more efficient Installation and Start-up. This leads to less downtime and more importantly, less cost to our clients.

Our office is equipped with the latest Technology in Computers and Networking systems that is second to none. We have the latest and most powerful engineering design softwares on the market to assist our staff. We also have a complete test lab for testing PLC and IDT programs.

"We pride ourselves on a staff with an excellent mechanical aptitude. We have the ability to understand complete systems thoroughly giving us an advantage over our competition. This makes our performance in Mechanical / Electrical design, PLC Programming and Troubleshooting more efficient and cost effective."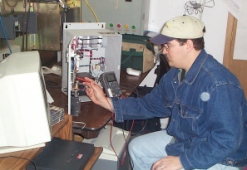 PRINCIPAL FIELDS OF ACTIVITY

Capetech Technological Services Inc. offers complete Engineering Design and Project Management in the areas of commercial, industrial, residential and entertainment.